The first book about gambling business is being issued in Ukraine
Gaming Business Association (ADIB) and Ukrainian magazine Azart announce the issue of a first book regarding the legal regulation of gambling business in Ukraine and adjoining countries. Author of the book – well-known publicist in the gambling business sphere: ADIB vice-president Eugeniy Kovtun. New book will detailed enlighten the experience of legislative regulation in Ukraine, Russia, Byelorussia, Czech Republic, Poland and 10 states more.
New edition issue in many ways is connected with the situation around gambling business legislative regulation in Ukraine, as well as with success of the first book "Legal regulation of gambling business in foreign countries", which went out in Russia in September 2006.
According to the experts, in year 2008 initiatives of Verhovna Rada legislators regarding gambling regulation and issuing of the first subject low will be considered once again in Ukraine. The first aim of a new book issue is to be read by the representatives of Ukrainian executive and legislative authorities in order to learn the foreign countries experience. The book will be issued in two languages: Russian and Ukrainian. Realization of book will take place within the territory of Ukraine.
Igor Romanjuk, establisher of Azart magazine promises to acquaint all regulatory bodies, interested in a civilized gambling business development in Ukraine, with the book content. GBA from its side promises to provide various echelons of executive and legislative authorities of Russia (RF President's Administration, RF Government, RF State Duma, RF Ministry of economical development and marketing, RF Ministry of finances, RF Ministry of education, Moscow Government, separate Mass Media issues) with the book.
Book is planned to be issued in February 2008.
With all the question you can approach directly the author of the book, Eugeniy Kovtun (tel. +7 495 131 25 75, www.adib92.ru, e-mail: info@adib92.ru) or the Azart magazine establisher, Igor Romanjuk (http://www.igrok.com.ua/, Rom@igrok.com.ua).
Kovtun Evgeny - Public relations Vice-president.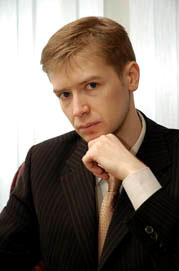 Was born on 14th of April 1977 in Moscow. Is one of the most well-known authors of materials on legal regulation of gambling business in Russia and CIS countries. An author of more then 300 articles on problems of taxation and legislative control of a gaming organization and holding activity in Russia and worldwide. Permanent speaker of conferences devoted to the amblimg business. An author of, "Gaming taxation" "Gaming and bets in Russia-2005" (jointly with Evgeniy Goroshko), "The Gaming Industry in Russian Federation: problems and perspectives of taxation and legislative control", "Gambling business in Russia: legislative regulation", "Legislative regulation of gambling business in the foreign countries" (jointly with Sergey Kovalev) etc. Such magazines as "The World of Games" and "The Gaming Industry" were created with my direct participation.